Nithya Chaithanya Yathi Chair
Nitya Chaitanya Yati (1924-1999) was a philosopher, psychologist, author and poet. His writings have made him one of the world's leading exponents of Advaita Vedanta, including how it dovetails with modern scientific discoveries. Guru behaves and reacts as a person at the transactional level, and there he lays his emphasis on being fully committed to his unlimited liability for the welfare of all. In that context, service is his watchword. He is a friend of the lone , the lost, and the rejected. In his love, even the most heinous sinner can easily find a haven of care and protection. He lives and symbolizes truth by being silent and when he articulates, the truth of every word that he utters bursts in to a world of magnificent meaning that always inspires and elevates the heart of his listener. He sets before others an example by living his beautiful thoughts in a beautiful way.
He joined in Union Christian College, Aluva in 1947 to continue his academic studies. After specialising in Philosophy and Psychology in UCC he taught these subjects in two Indian Universities. He again sat at the feet of highly reputed sannyasis to learn Vedanta ,Samkhya, Yoga, Mimamsa, Indian poetics and Literature. With a special flair for the meaning of the Bhagavad Gita and the Bible, he was the founder – chairperson of the East-West University of Brahmavidya, and also worked as the Commissioner for World Education and as a sponsor of the World Government of World Citizens. His life in U C College has helped him to understand Bible and Bhagavath Gita in its full meaning and put forth the idea of world citizenship.  A world citizen recognizes the entire world as one's state and in principle does not recognize any member of one's own species as an alien to the world community to which oneself belongs. Such a person recognizes the earth as one's sustaining mother, the innate inviolable laws of nature as one's protecting father, and all sentient beings as sharing one's home."
Guru Nitya published over 120 books in Malayalam and 80 books in English, as well as countless articles on Philosophy, psychology, social ethics and aesthetics. He attained his Maha Samadhi on May 14,1999, and his legacy of love and wisdom continues in his writing and in his disciples.  He was destined to embrace, embody and illumine a vast world of human aspiration and attainment. In his role as teacher, Nitya inspired students throughout the world. As a friend, he consoled and guided. For the new generation, these are unknown….
In view of this we started a program in our college called  "NITYADARSANAM " .
The main objectives are
Celebrating Guru Nitya Chaitanya Yati Jayanthi on November 2nd
Lecture series on guru's principles may be conducted in the college.
Quiz programs
Essay competitions
Exhibition on all books of Guru Nitya
Visits to Fernhill Gurukula, Ootty and to his birthplace at Konni, Pathanamthitta Dist.
Lectures in association with Guru's Samadhi day, May 14th.
Activities…
2023
Tuesday, May 14, 2023
A Visit to Fernhill Gurukula, Ooty on Guru Nitya Chaitanya Yati's Samadhi Day
On May 14, 2023, four teachers embarked on a meaningful journey to Fernhill Gurukula in Ooty, India, to commemorate Guru Nitya Chaitanya Yati's Samadhi Day. Upon arrival, they were warmly welcomed by the disciples, setting the tone for a profound day.
The teachers began by paying their respects at the Samadhi Shrine, a serene space adorned with flowers and incense, resonating with devotional chants. They meditated in silence, reflecting on the Guru's teachings, creating a spiritual atmosphere.
Later, we engaged in a seminar led by a senior disciple, who eloquently expounded on Guru Nitya Chaitanya Yati's philosophy. The discourse explored themes of reality, the Self, and the path to liberation, leaving the teachers deeply moved and inspired.
The day continued with a simple yet delicious communal lunch and a peaceful stroll through the lush green hills surrounding the Gurukula. The teachers also listened to excerpts from the Guru's writings. With hearts full of gratitude, they bid farewell and returned to their college, profoundly touched by the spiritual and inspirational experience at Fernhill Gurukula.
2019
The NITYADARSANAM program of U. C College was started in January 2019 and inaugurated by Vinaya Chaitanya, a disciple of natarajaguru and an old student of the Department of English, U. C College.is a unique platform for students to interact with eminent personalities from various fields.
In this event, writer Shri. Shoukath and Vinaya Chaitanya were the speakers, while Dr. Tara K. Simon, Principal, U.C College, welcomed the audience, and Dr. Seena Mathai delivered the vote of thanks.
The program was a resounding success, with the speakers sharing their insights and experiences. Students were enthralled by the speakers' wisdom and eloquence, and left the event feeling inspired and motivated.
The NITYADARSANAM program is a true asset to the U.C College community, and it is commendable that the college is committed to providing students with opportunities to learn from the best and brightest minds.
2020
2020 edition
Dr. Seena Mathai welcomed the audience, followed by a presidential address by Dr. David Saj Mathew. Writer and Yati's disciple Shoukath interacted with the audience and talked about "Yati's teachings and their applications in life". The program concluded with felicitations by Rev. Dr. Thomas John, Krishna Das Warrier, and a vote of thanks by Dr. Rekna Nair Asst. Prof , Dept of English.
The program was a true confluence of minds, with speakers from different walks of life coming together to share their wisdom and knowledge. Dr. Seena Mathai, Asst. Prof , Dept of Psychology welcomed the audience with a warm and inspiring speech.
Writer and Yati's disciple Shoukath interacted with the audience and talked about Yati's teachings and their applications in life. Shoukath's talk was both insightful and inspiring, and he left the audience with a lot to think about.
Nityadarsanam 2022: A mind-blowing session of wisdom and insights.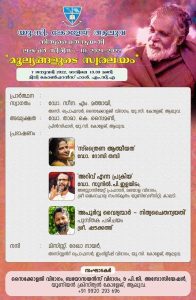 The program was kicked off with a welcome speech by Dr Seena Mathai, Asst. Prof in Psychology. The next session of Nityadarsanam 2022 featured three distinguished speakers from different walks of life:
Sunil P Ilayidam, a renowned writer, orator and a Professor from Sree Sankaracharya Sanskrit University, explored the mysteries of knowledge.
Rosy Thampy, a Rtd professor in Malayalam and an author, took us on a journey of self-discovery.
Shoukath, a writer, guru Nitya's disciple, and orator, reviewed the guru's book "Apoorva Vaidyanmaar."
Each speaker shared their unique perspectives and insights, leaving the audience with a lot to think about.
Sunil P. Ilayidam inspired us to think about the nature of knowledge and how we acquire it. He argued that knowledge is not simply a collection of facts, but rather a process of understanding and making meaning. Rosy Thampy reminded us of the importance of self-awareness.
Shoukath reviewed the guru's book "Apoorva Vaidyanmaar," which is a collection of stories about extraordinary healers. He spoke about how getting to know ourselves better can help us live more fulfilling and meaningful lives. Shoukath's talk was both informative and inspiring, and it left the audience with a sense of hope and possibility.
Overall, Nityadarsanam 2022 was a mind-blowing experience. The speakers were engaging and thought-provoking, and they left the audience with a lot to ponder.
The program ended with a vote of thanks by Dr. Rekha Nair, Asst. professor of English at UC College.