NPTEL
SWAYAM-NPTEL Local Chapter
The National Programme on Technology Enhanced Learning (NPTEL) was initiated by seven Indian Institutes of Technology (Bombay, Delhi, Kanpur, Kharagpur, Madras, Guwahati and Roorkee) along with the Indian Institute of Science, Bangalore in 2003. NPTEL provides E-learning through online Web and Video courses in various streams
Union Christian College became a SWAYAM-NPTEL Local Chapter since June 2018. Ms. Gincy Abraham, Assistant Professor, Department of Computer Science is the SPOC of  NPTEL Local Chapter.
Uses of the Course
1.Enables the student to directly engage and learn from the best faculty in the country in that particular subject. This strengthens the fundamentals of the student in the course
Gives the students the opportunities to explore new areas of interest – which are not possible in regular college environment. Also gives students the opportunity to learn in greater depth the subjects they wish to master. These courses are also serving as faculty development programmes 3. The audience in a MOOC includes students spanning the length and breadth of India and a small fraction of foreign students. This mix of peer group gives the students a chance to assess where they stand with respect to this group of learners.
These courses also bring out the self-learning initiative of the students – where their own motivation is what drives them to complete the course and not external compulsions. This fosters the habit of keeping oneself updated always by means of self-study.
The certificates issued bear the stamp of CCE, IIT and hence are valuable additions when the student is applying for jobs.
Companies can also dig into this pool of candidates with specialized skills – in case they wish to recruit.
Courtesy: NPTEL website
Union Christian College is recognized as an ACTIVE Local Chapter from Jan 2019 onwards. https://nptel.ac.in/LocalChapter/statistics/1965/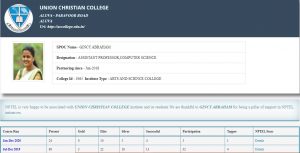 NPTEL STARS(Certificate of Appreciation)
Top Learners of NPTEL online courses are recognized in various ways.
Ms. Renju Chandran, Faculty, Union Christian College, Aluva is being recognized as   JULY 2019 NPTEL Believers as she had present in 4/5/6 exams with passing at least 4 exams appeared for. Congratulations.
Ms. Sneha Rose George, Faculty, Union Christian College, Aluva is being recognized as December 2019 NPTEL Discipline Stars, given to those who have certified in courses of the same discipline, more than 50 weeks of learning, and final score in each subject>=55.
Congratulations
Students' Details
Course Run

Total No. of Enrollment

 

 

Modified Pass Certificate due to COVID 19
 
Certificate Category
Topper
Total
Gold
Elite
Silver
Successful
Jan-April 2021
541
NA
59
0
24
11
24
Jul-Dec 2020
579
19
10
5
4
Jan-April 2020
437
87
82
NA
NA
NA
87
Jul-Dec 2019
556
NA
56
3
22
18
13
4
Jan-Apr 2019
971
NA
87
4
13
24
46
1
Jul-Oct 2018
358
NA
52
1
13
11
27
3
Workshops attended by the Students:
Abhinaya S, Jain Joy, and Rinu Mariyam from 3rd BSc Chemistry attended a six-day workshop on "Techniques in inorganic Chemistry(Advanced)" held at IISER Pune from July 1, 2019, to July 6, 2019.
Faculty Details
Year
Number of enrollments
Certificates
Toppers
Mentor Certificate
Top Performing Mentor
FDP certificates

(AICTE)

Active SPOC Certificate
Jul-Dec 2020
56(Till 12.08.2020)
Jan-April 2020
42
Mr.Akhil T. V.,

Mrs. Sabeela K. Abdulsalam,

Ms. Sherna Mohan

—
—
—
Jul-Dec 2019
45
12
Ms.Smitha Roy,

Mr. Ajan P.J.

Dr.Elizabeth V. Mathew ,Mr.Akhil T.V., Mrs.Sabeela K. Abdulsalam
Dr. Elizabeth V. Mathew
Dr. Shirley Thomas,

Ms. Renju Chandran(4),

Mr. Ajan P.J.(2),

Mr. Akhil T.V.,

Ms. Venna Jayan,

Ms. Sneha Rose George,

Mrs. Sabeela K. Abdulsalam

Ms.Gincy Abraham
Jan-Apr 2019
39
6
Ms.Renju Chandran, Ms. Sneha Rose George
Mr. Alwin Alexander,  Ms. Gincy Abraham,  Mr. Sujith Kumar,

Mr. Akhil T. V.

Mr. Akhil T V,

Mr. Lijo Thomas, Ms.Renju Chandran,

Ms. Sneha Rose George(2),

Mr. Sujith Kumar P.

Ms.Gincy Abraham
Jul-Oct 2018
29
—
—
Dr. Niladevi  N
Ms.Gincy Abraham